HERA: High Noon in Deep Space
---
… and the world watches via an HPS antenna!
As is well known, the ESA Council of Ministers Conference 2019 has brought a major "jolt" to the German space industry – which German President Herzog had called for as early as 1997 – and a "jolt" that will travel around the world as the moon landing once did! With HERA, Europe is participating in the development of the first Earth defence mission against asteroid aggressors from space. USA is preparing the second satellite. And just like the moon landing more than half a century ago, this project will capture the attention of people all over the world with its images! HERA will transmit these images from well over ten million miles away starting in 2027. Just before Christmas 2020 TAS-ES/OHB contracted HPS now for Phase 1 of the antenna development.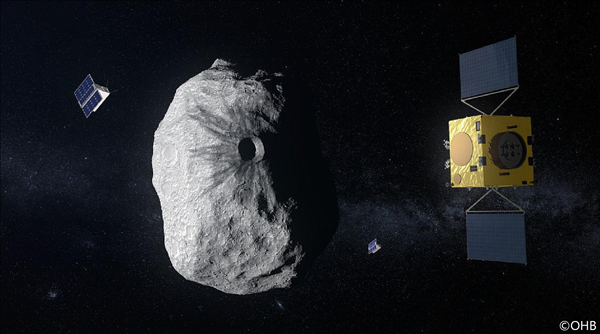 A central element of the HERA satellite is the Ka-band antenna subsystem from the German antenna specialist, HPS (Munich). A complete 1.2-meter diameter antenna will be made of highly stable Carbon Fibre, with an extremely low weight, high Eigenfrequency, and good reflectivity. For HPS, the experience gained from its major antenna projects, such as Euclid (ESA, direct customer TAS-SP) and Heinrich-Hertz (DLR, direct customers TESAT/OHB), has created a well-known and proven technology background. This is a major advantage for a mission whose launch date is unalterably fixed in 2024, leaving only 22 months from Kick-off until the required delivery date of the antenna in October 2022.
On 15.09.2020, ESA signed the HERA satellite Prime Contract with OHB-Bremen.
For this mission, Thales Alenia Space Spain (TAS-SP) is responsible for the entire Communication Subsystem and will be the direct customer for HPS GmbH. HPS will utilize INVENT (Braunschweig) as its main subcontractor for the "Build-to-Print" production of the Main Reflector Dish. HPS´s subsidiary in Romania will support with engineering services and hardware components, e.g., the Secondary Reflector.
On 16.12.2020, HPS received their official "GO!" from TAS-SP for PHASE1. For several months now, the project team has been working on the design in order to safeguard the project schedule.
HPS CEO, Ernst K. Pfeiffer, commented: "We are delighted and honoured by our participation in this historic mission. We are pleased to contribute, not only with our established expertise as antenna specialists, but also with the passion of SMEs, being willing to start immediately with a very highly-motivated team. We will be on time! It is exciting to be part of a process of turning science fiction into a technological reality for the benefit of all mankind. My employees are fired up for this mission, and we are investing our own resources, because HERA will also support HPS's long-term expansion plans.