Space strategy and politics
---
Based on the international scope of the HPS space business as well as on the function of the company´s CEO as spokesman for the Association of the German Space SME (AKRK), the European Space Agency ESA and the German Space Agency DLR invite HPS as a trusted partner to programmatic consultations with strategic impact on space economics. Among the big players of the branch HPS assumes the role as voice for the medium sized sector of space.
Recent examples are:
Position w. r. t. Ministerial Conference (Space 19+), procurement policy and future space strategy
Recommendations on a Model Subcontract, audit- & profit regulations, time-to-payment, COVID-19 crisis measures to ensure business continuity in the European Space Industries.
Discussing on an SME-Panel of the SpaceTechExpo, Bremen, November 2019 "The Hard Road to the Stars: Challenges and Opportunities for SMEs in the European Space Business"
Participants: Jens Kauffmann (Head of ESA SME Office); Ernst K. Pfeiffer (Spokesman AKRK), Alexander Reissner (CEO of Enpulsion (AT)); Jesus Marcos (R&D Director at Caelestia Technologies Group (NL)); Walter Ballheimer (CEO German Orbital Systems); Hans Bracquene (SME4SPACE Chairman)
Space Expo Bremen – Canadian Delegation at Best of Space, 24. October 2017
Participants: G. Gruppe (that time: Director German Space Agency) and P. Ehrenfreund (chief director DLR)
©Photo ESA/Anneke Le Floc'h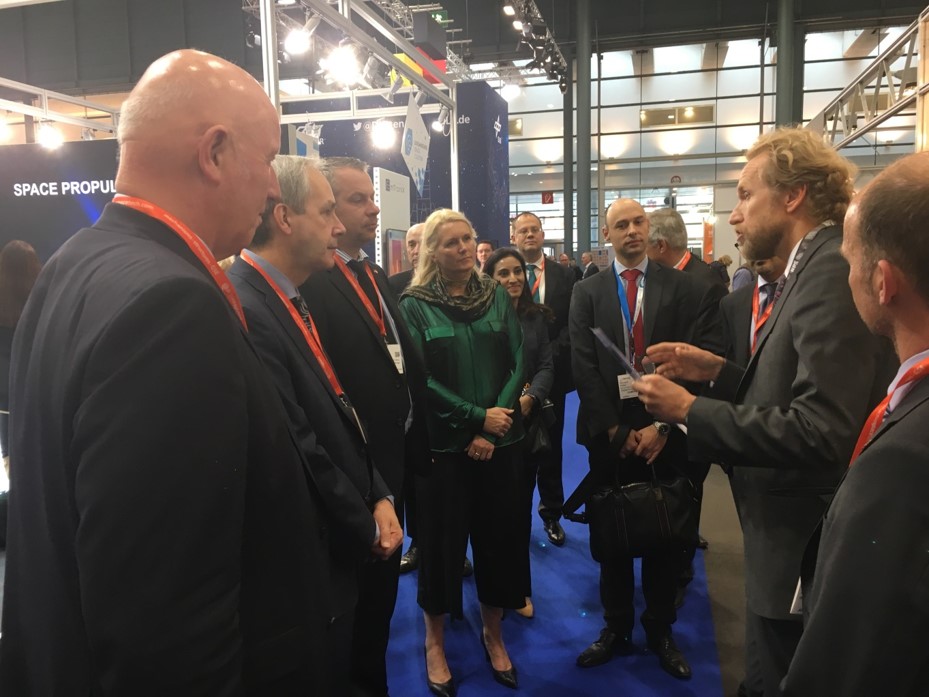 5. National conference for Satellite Communication in Germany (Bonn, 28./29. March, 2017)
©Photo ESA/Anneke Le Floc'h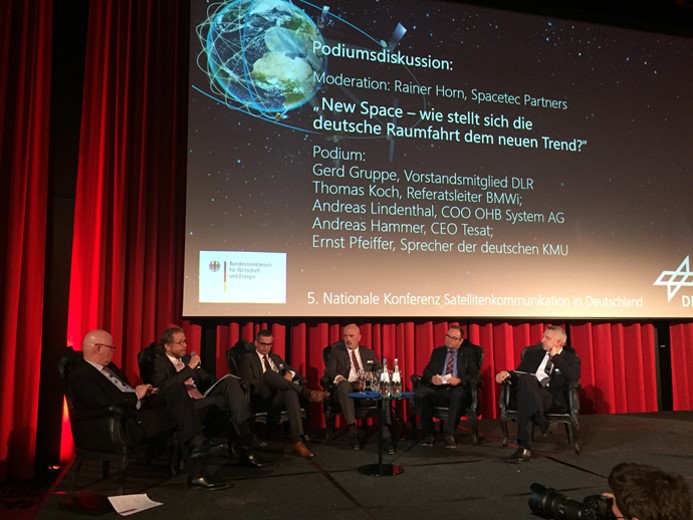 At the High Level Forum, ESA 2015: "Competitiveness and Growth of the Space Industry" – HPS-CEO Dr. Pfeiffer and leaders of Europe´s space industry and agencies.
Photo from left to right:
ESA (Mr Ongaro), RUAG (Vice President Mr Wentscher), HPS (Mr Pfeiffer), Airbus Defence & Space (CEO Mr Auque), ESA (Director General Mr Dordain), ESA Council (Vice Chairman Mr Le Gall), OHB (CEO Mr Fuchs); not on the picture: Thales Alenia Space (Mr Galle), EARSC (Mr Wensink), ESA (Industrial Policy, Mr Morel).
©Photo ESA/Anneke Le Floc'h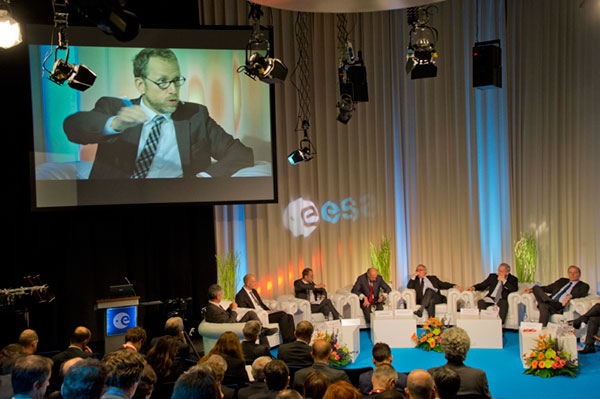 Photo of the group after the discussion at the "High Level Forum 2015" of ESA/ESTEC in Nordwijk, June 2, 2015, from left to right:
Participants:
Holger Wentscher (Head of RUAG Space Switzerland), Eric Morel de Westgaver (ESA Director of Industry, Procurement and Legal Services), Ernst K. Pfeiffer (CEO HPS GmbH and CEO HPS lda.), Francois Auque (Head of Space Systems at Airbus Defence & Space), Jean-Jacques Dordian (ESA Director General until June 30, 2015), Marco Fuchs (CEO OHB System), Jean-Yves Le Gall (ESA Council Vice Chairman), Jean-Loic Galle (Executive Vice President, Thales Alenia Space)
©Photo ESA/Anneke Le Floc'h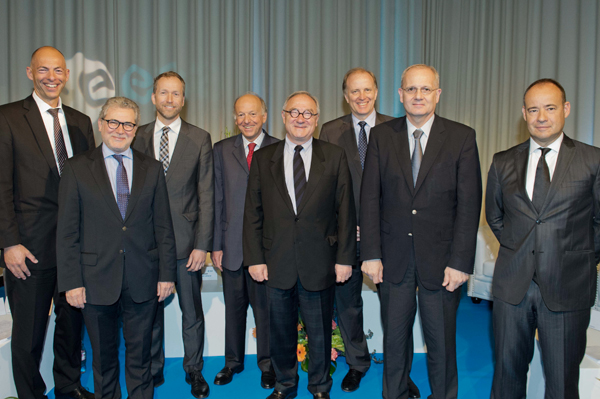 HPS is in constant and trustful contact with central political institutions on regional, national, and international level, since the SME´s political perspective as it is presented by HPS plays a vital part in the space business all over Europe with topics like the SME´s role in federal German technology politics, growth and jobs on national and regional level, chances and ways of intensifying German-Romanian or German-Indian business relations.
Group picture after the event "What´s next in space" in the Bavarian Landtag. Content of this congress was the discussion about a new roadmap for the German space politics, 8. July, 2019
It was organized by: Thomas Sattelberger (Member of the German Bundestages), Wolfgang Heubisch (Member of the Landtag), Dr. Ernst Messerschmid (German Physician and Astronaut), Dr. Ing. Ernst K. Pfeiffer (Chairman of the Association of Small & Medium-Sized Space Companies "Best of Space" and CEO from HPS)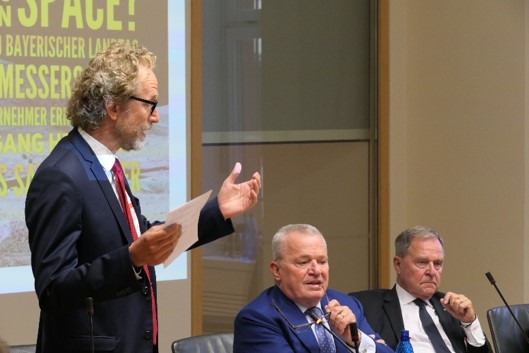 Just a few weeks before the launch of "Pride of Bavaria", the space test mission of the nano-version of the space sail system ADEO for fast deorbit of decommissioned satellites, Bavarian minister of economy Franz-Josef Pschierer paid a personal visit to HPS, the Munich based driver of spacetech innovations. Founder and CEO of HPS, Dr. Ernst K. Pfeiffer, explained the ADEO-system designed to avoid space debris, Munich, 24. May 2018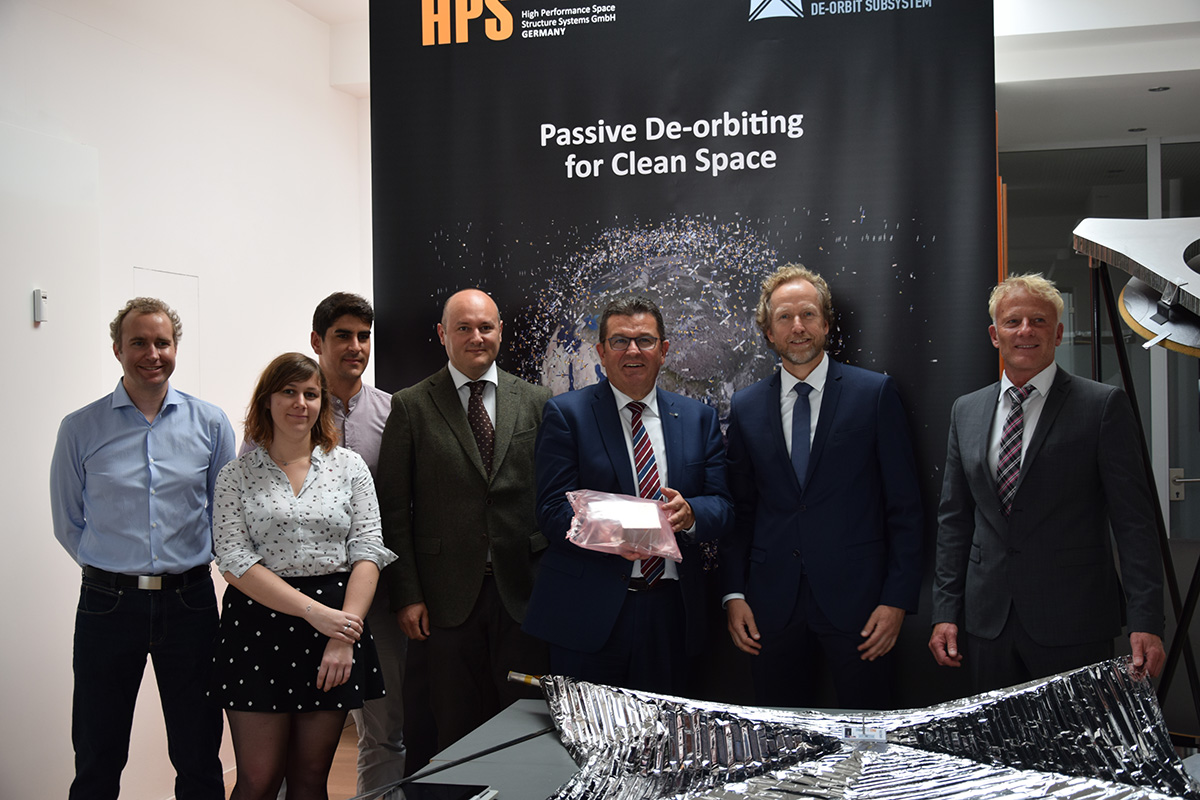 Space Policy/Industry Dialogue, 24. May, 2017 in Taufkirchen/München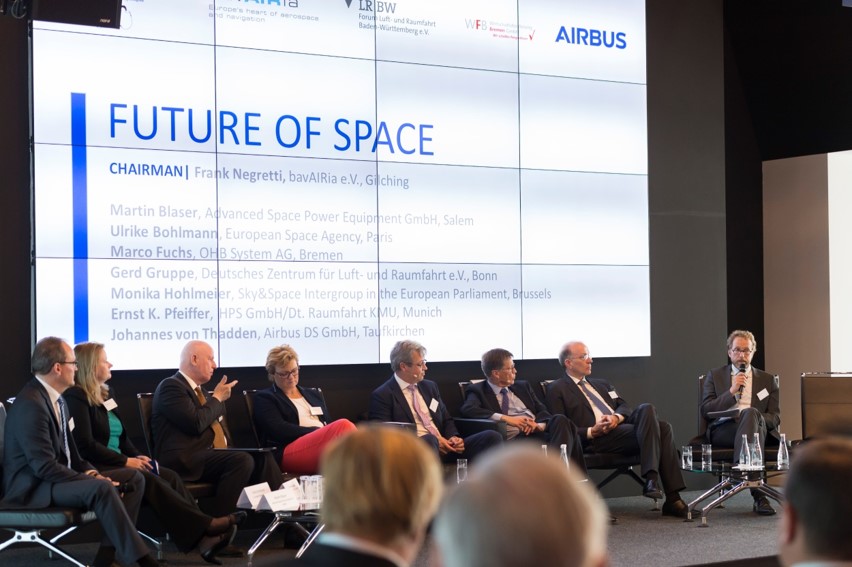 Space Workshop with German "Wirtschaftsrat", Berlin, March 2017
Meeting with Prof. Riesenhuber (Member of the German Bundestag) and Dr. Pfeiffer (Member of the German Bundestag) in Berlin, 19. September, 2016