ADEO
---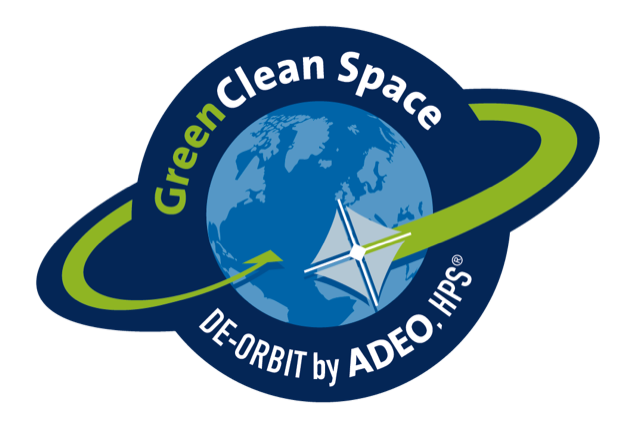 ADEO – EuroTech for Clean Space
Space debris in low earth orbit (LEO) is a growing risk for all space missions. Without effective means for deorbiting used satellites and rocket stages space missions can even become impossible. The existing guideline for debris removal within 25 years after launch ("IADC Space Debris Mitigation Guidelines") are much too weak, considering a launch rate of up to one thousand New Space satellites per year. Two ways of removal are possible:
Active deorbiting unsing separate propulsion
Passive deorbiting using sails.
Extra propulsion means additional weight and bears the risk that after 15 years in space the respective systems fail. In contrast, dragsails of passive deorbiting modules use the simple effect of physical resistance against micro-atmospheric conditions in orbits up to 750 kilometers altitude: Debris comes down quickly and burns off through reentry. Dragsails stabilize automatically, they need no active guide and navigation systems and can even remove tumbling space crafts.
Together with industrial partners, institutes of DLR and Fraunhofer, HPS has developed the product line of ADEA dragsails:
ADEO N, for small sats, 1 – 100 kilo, for example CubeSats
ADEO-L, for medium seized to large objects, 100 – 1.500 kilo
ADEO-M, tailormade solution for objects beztween 10 and 500 kilo.
Moreover, the basic technology can also be used for solar wind powered propulsion systems in space with ADEO-S ("solar").
The worldwide competition among 16 enterprises and institutions – mostly from Japan, the U.S. and Canada – for the pole position on the market is fierce. However, besides NASA, the university of Toronto, and the japanese JAXA HPS is the only one whose product – ADEO – has already successfully demonstrated its abilities in space. In addition, ADEO is the world´s only system with a scalable product family and as such under preparation for serial production parallel to final development steps. The availability of this critical technology is a conditio sine qua non for Germany and Europe to profit at all from the coming era of commercial New Space with its constellations of thousands of satellites.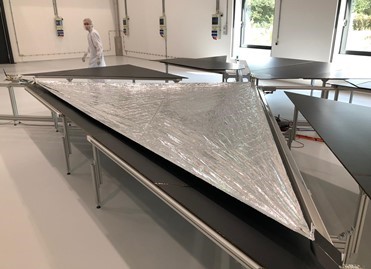 Deployable Drag Sails (ADEO-L)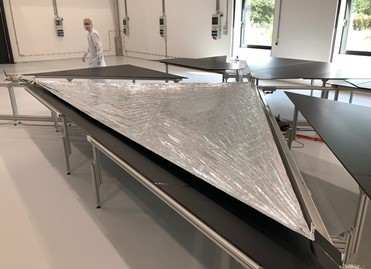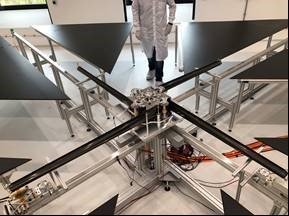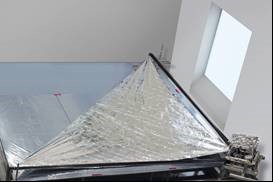 ADEO-L in general can be summarized with the following features:
Scalable drag-augmentation subsystem
passively de-orbits satellites between 100 kg and 1500 kg within 25 years
No onboard GNC required
Much shorter de-orbit times can be realised by increasing the sail size
Customizable sail areas depending on spacecraft mass and de-orbit time needs
All technologies, parts and materials are ITAR-free.
Motorized deployment with own deployment control electronics
Optional: own battery for automatic deployment in case of satellite failure
Dragsail area from 10 m2 to > 100 m2
Subsystem Mass: 7 – 15 kg (depending on sail size)
Subsystem Dimensions: 40 cm x 40 cm x 17 cm
Materials withstand > 25 years de-orbiting time (UV, ATOX, space debris impact, etc.).
Deployable Drag Sails (ADEO-N)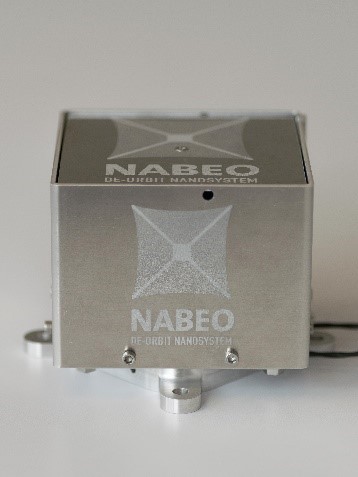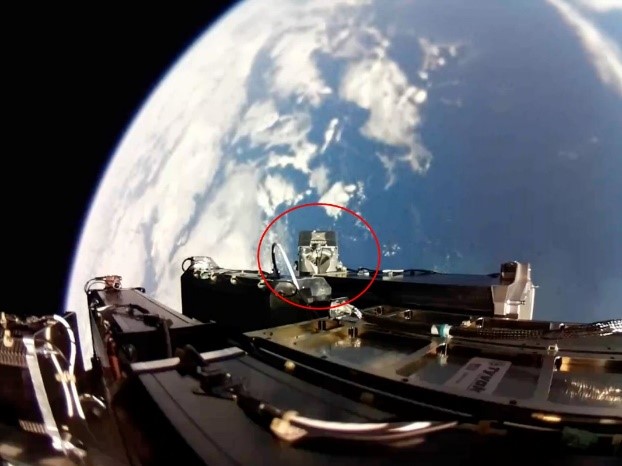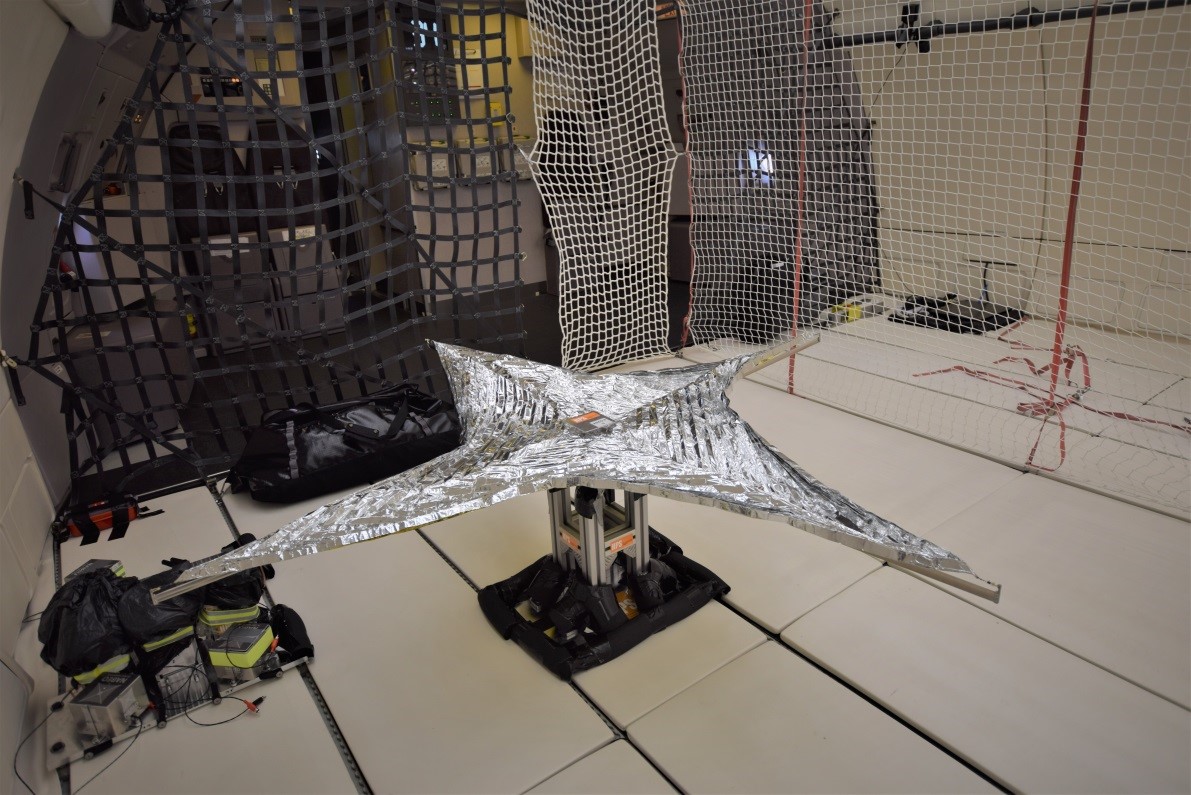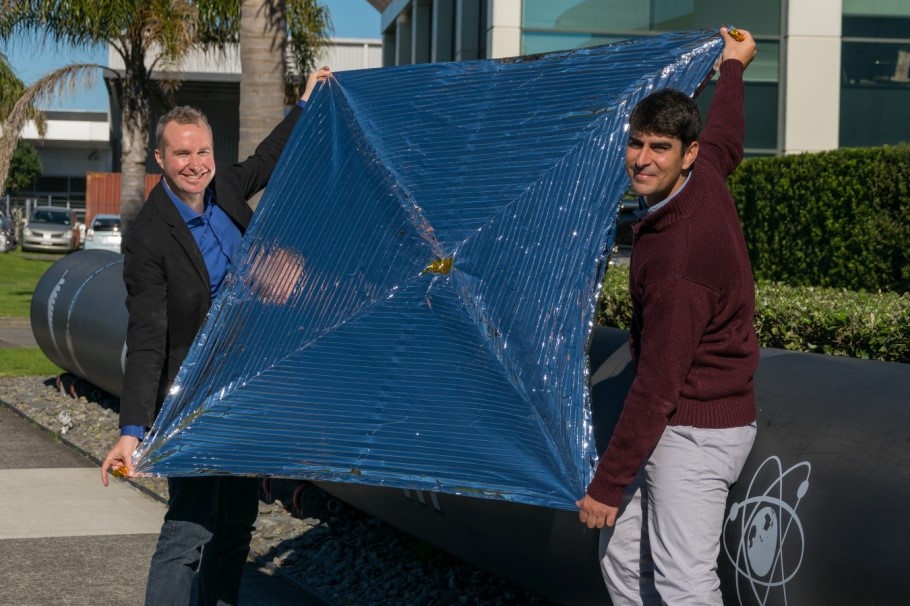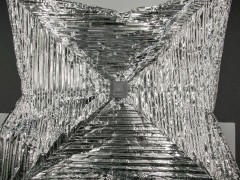 ADEO-N in general can be summarized with the following features:
Dragsail for cubesat/nano-satellite applications ranging from 1 kg to 100 kg
Completely passive de-orbiting without GNC within 25 years or much shorter
Customizable sail areas depending on spacecraft mass and de-orbit time needs.
Initiation of the deployment via a simple signal
Two-step deployment: 1) out of the box; 2) sail deployment (allowing the subsystem also to be used in 6U, 12U, … cube satellites).
Dragsail area: 2 m2 up to 4 m2
Stowed size: 1U (10 cm x 10 cm x 10 cm)
Mass: 1 kg.