Dragsail technology demonstration mission NABEO-1 (ADEO dragsail family) successfully launched into space on Rocket Lab's Electron #ItsBusinessTime
---
On the 11th of November at 4:50am Central European Time, the HPS GmbH developed NABEO-1 dragsail technology demonstrator was launched into space onboard the Rocket Lab Electron rocket #ItsBusinessTime. This dragsail is a means to passively remove satellites from highly congested Low Earth Orbit regions after their mission life without the need for the spacecraft to be still alive.
With a dragsail area of 2.5m2 deployed from a cubesat sized box (<1U: 10cm x 10cm x 10cm) the NABEO-1 dragsails fit right into the ADEO-N dragsail class for cube and nanosatellites. Further developments for dragsails for larger missions (ADEO-L for 100-500kg satellites) are currently undertaken at the ESA GSTP/CleanSpace activity ADEO which will lead to a qualified dragsail Protoflight Model in 2020 with a follow up In-Orbit Demonstration Mission right after.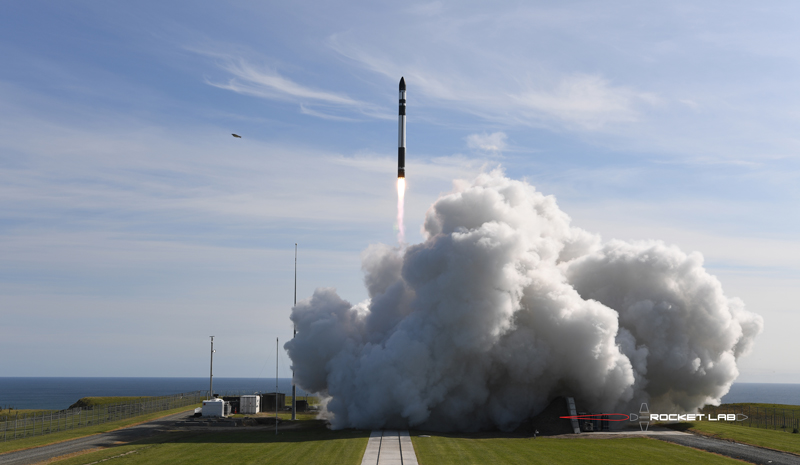 The opportunity to fly the NABEO technology demonstrator on the #ItsBusinessTime mission was offered by Rocket Lab (Huntington Beach, CA, USA / Auckland, New Zealand) and Ecliptic Enterprises Corporation (Pasadena, CA, USA) via Ecliptic's Hosted Payload Program (HPP), with NABEO-1 serving as a pathfinder for demonstrating the Electron rocket's hosted payload capabilities. The NABEO-1 subsystem development at HPS GmbH was co-funded by the Bavarian Ministry of Economic Affairs, Energy and Technology. The foundations for the dragsail technology have been laid in 2017 by joint research activities between the DLR Institute for Space Systems (Bremen), Fraunhofer Ernst Mach Institute (Freiburg), and HPS GmbH (Munich).
The #ItsBusinessTime rocket was launched from Rocket Lab's Launch Complex 1 at the Mahia Peninsula on the North Island of New Zealand. The NABEO-1 subsystem was attached to the kick stage (3rd stage) of the Electron rocket and stays on the kick stage for its deployment which was commanded 2 hours intro the flight. Currently, the team at HPS GmbH is waiting for a confirmation of the dragsail deployment with the help of the Falcon Telescope Network who will also try to investigate the de-orbit behavior of the kick-stage with the attached dragsail via their optical telescopes.