Spaceborne: ADEO-N2 Dragsail Testmission "Show me your Wings" on Orbit
---
Falcon 9 rocket successfully deploys innovative technology to keep space sustainably clean
On Wednesday, June 30, at 21.31 hrs CEST a Falcon 9 by Space X took off to a transporter 2-mission from legendary spaceport Cape Canaveral, Florida. On board: Italian NewSpace company D-Orbit´s ION Satellite Carrier on its "Wild Ride"-mission with tech-passengers from 11 countries, among that HPS's ADEO-N2, named "Show me your Wings". ION was successfully separated from the launcher exactly one hour after liftoff.
The ION-platform itself will now seperate one payload after the other on their respective orbits for in-orbit validation tests, until finally the platform turns into a test object itself, since it will be brought back "home" by ADEO, the world's only industrial NewSpace drag sail of its kind for the multiple accelerated return of retired satellites. The idea behind it: "Just keep space "cleangreen" by launching only what you have equipped with a device to bring it quickly back home after use", says Ernst K. Pfeiffer, CEO of German spacetech company HPS. ADEO is available from HPS in different versions tailored to the size and weight of the spacecraft in question. In this case, it is one of the smallest versions, weighing just 800 grams, with dimensions of only 10x10x10 centimeters and a sail area of 3.6 square meters.
HPS CEO Ernst K. Pfeiffer is convinced that ADEO came at exactly the right time to promote sustainable NewSpace development by avoiding the threat of apocalyptic space debris scenarios, despite rapidly growing constellations. In this context, Pfeiffer emphasizes the excellent R&D support provided by engineers and test facilities of the DLR Institute of Space Systems in Bremen, as well as the various economic development support contracts and grants provided by ESA, DLR and the Free State of Bavaria.
The implementation of the technology developed by HPS's NewSpace Team at Munich headquarters was largely supported by the hands of engineers and technicians of the Romanian subsidiary and Romanian workshops. This is now, according to Pfeiffer, "our clear advantage having all in one company: heritage from institutional space, a tailored "internal start-up department", a steadily growing house in Bucharest and several trustful development and production partners. New and expanded challenges to innovation and manufacturing are already waiting."
At the end of the nominal ION-mission, in front of its "eyes" of the integrated cameras, the ADEO braking sail module unfolds, shows its "wings" and leads ION to residue-free disposal by incineration in the atmosphere much quicker than without the sail. The first 100 km of descent will be monitored intensively. This is planned to happen in a mission slot between December ´21 and January ´22. This mission now is the last verification in a series that also encompasses a first flight on Rocket Lab´s Electron in 2018 and several parabolic flights until 2021.
With this inflight-proof of maturity ADEO is targeted to go then into serial production for customers already waiting in the U.S., Europe and Asia.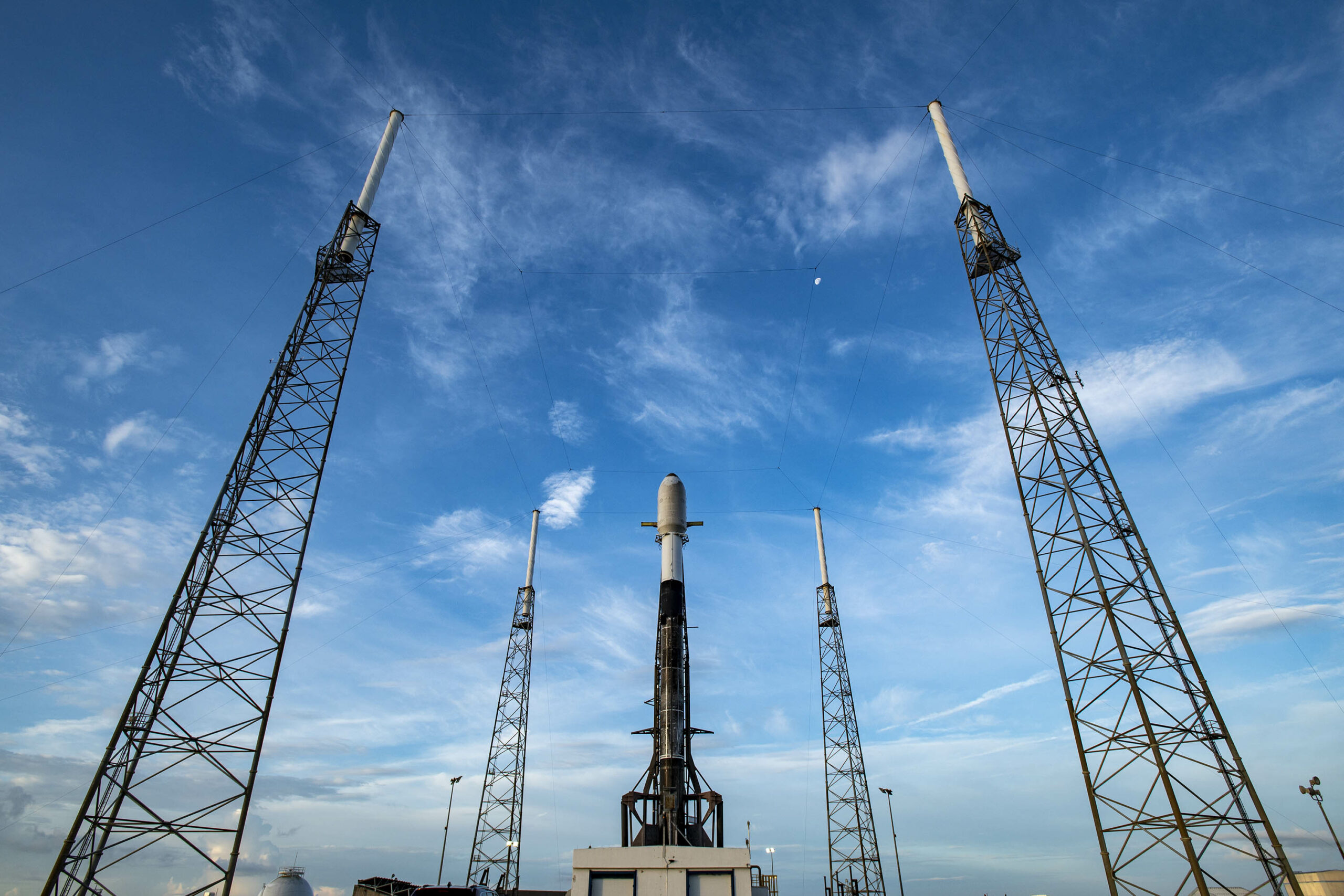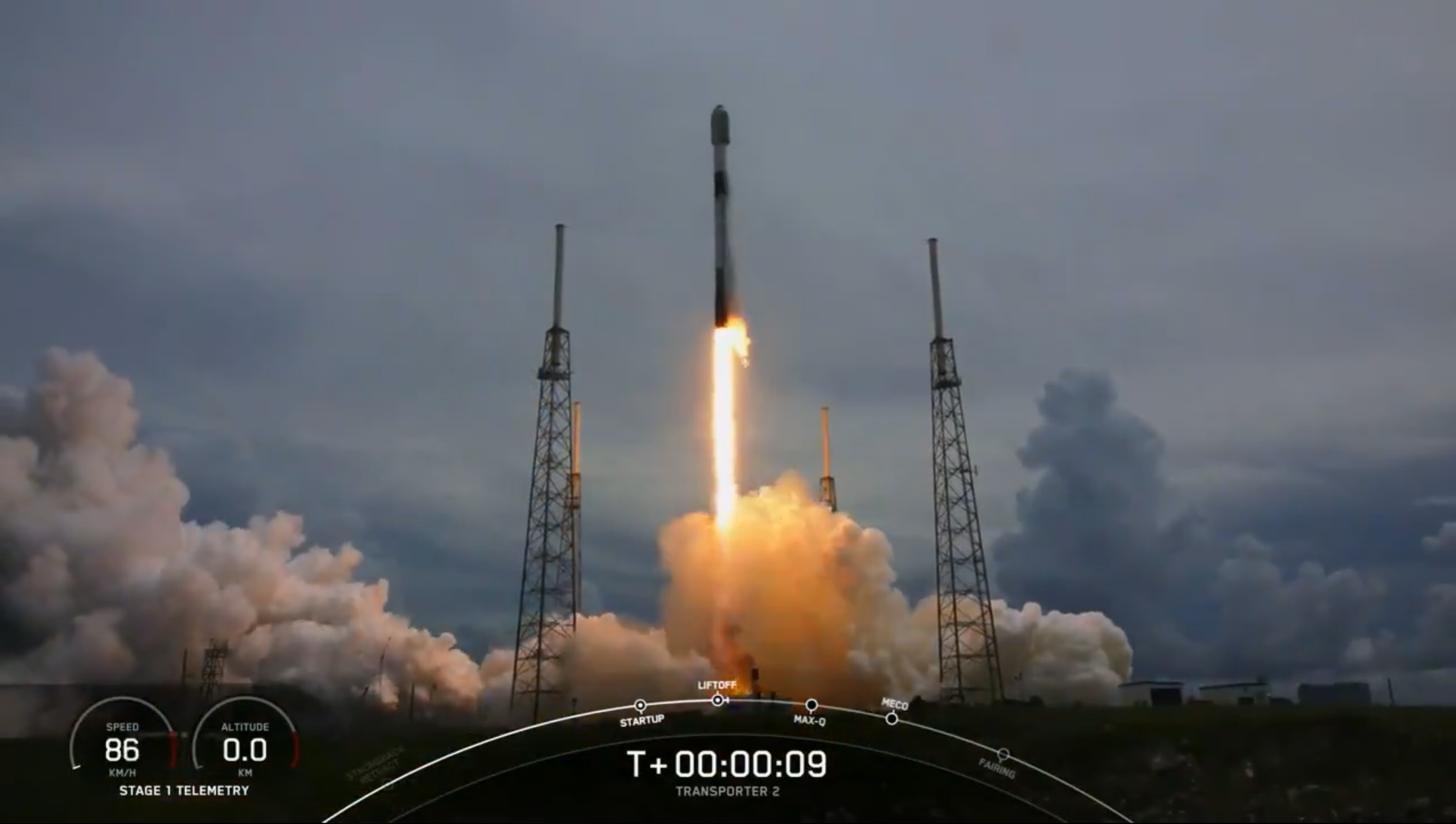 Taking the Next Step in ESA´s Clean Space Initiative
---
ESA-Prime HPS with SME-Consortium Ready to Build New Generation De-Orbiting Subsystem
Hardly any messages have dominated the space community´s discussions in the past two years as perseverently as these two:
the debris from past satellite missions forms a growing threat to future endeavors in space
the number of satellites expected to form future constellations especially on LEO is exploding since new players are discovering space as their domain
which again multiplies the problem of future debris.
So, on the one hand enormous growth of the satellite business is to be foreseen, on the other hand this business needs better rules in order to be sustainable. "Clean Space" is ESA´s answer in general and the quest for a new, fully ecological de-orbiting sailsystem in particular.
While currently satellite manufacturers are already facing problems to comply with the 25-years-deorbiting "guideline" without minimising the effectiveness and increasing the cost of their missions, ESA now aims to make this period as a strict requirement leaving neither ecological nor economical footprints.
Capitalizing on previous research and development in this area like the precursor project ADEO, led by the subsystem prime HPS with its consortium of DLR-institutes in Bremen and Braunschweig and the SMEs Etamax and HTS, ESA now announced its expectations for a full fledged demonstrator ready to fly by 2018 with a deorbiting time of lower than 5 years. The new project will be ignited this year and ESA´s subsystem prime HPS is expected to take this next step towards the final breakthrough in deorbiting technology, too, because:
the current HPS precursor project ADEO, featuring a 5m x 5m deployable boom and sail subsystem weighing just 20kg, has been successfully tested on breadboard level in February 2016 and will reach design maturity for an Engineering Model manufacturing and assembly through a CDR in these days in March.
ADEO will then already fulfill the requirements of providing sail and boom materials able to withstand the very severe Atomic Oxygen (AtOx) and Ultra Violet (UV) environment, offering scalability down to 100-kilo-satellites down from the current reference case of spacecrafts at 1-1.5 tons of weight, and of providing reliable deployment technology tested under ambient conditions and in a vaccum chamber in mid 2016.
HPS as ESA subsystem prime is aiming at the follow-on project also with its proven partners.
In parallel and as leading specialist on deployable structures and antennas, HPS Germany acts as prime contractor for Large Deployable Antennas (LDA) in cooperation with the German SME LSS, while the HPS subsidiary in Portugal is working on a deployable highprecision mast system (10-20m) for instruments weighing 100-250 kg on science missions.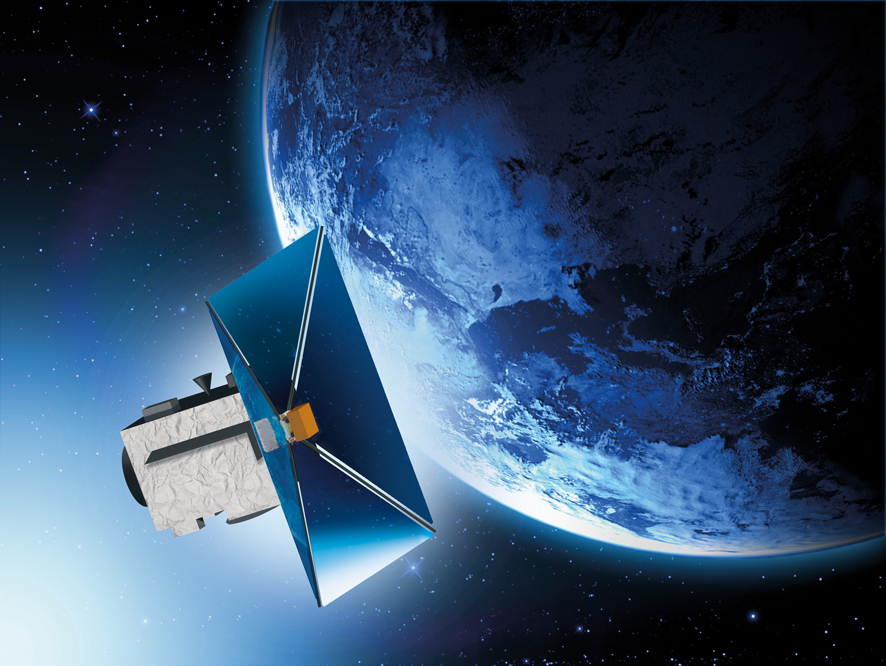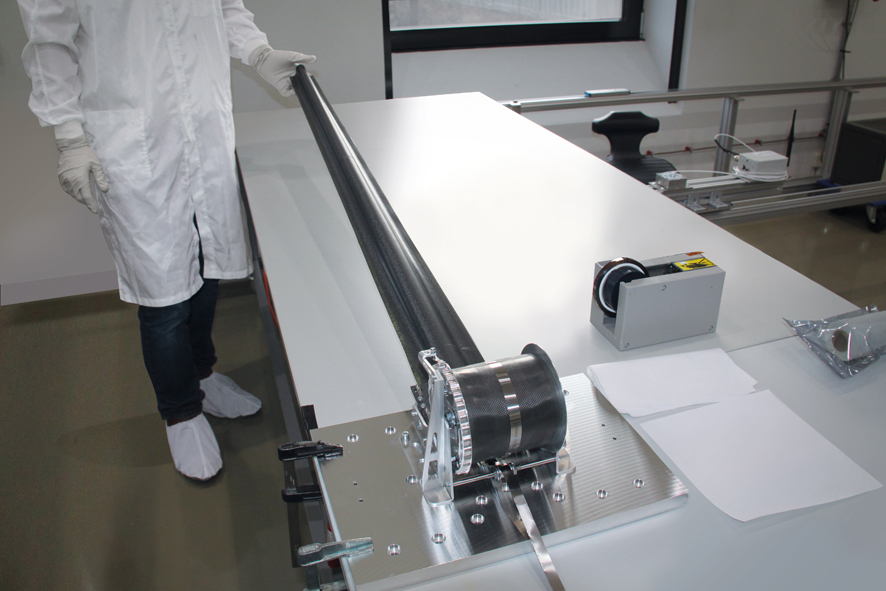 Pride of Bavaria
---
Just a few weeks before the launch of "Pride of Bavaria", the space test mission of the nano-version of the space sail system ADEO for fast deorbit of decommissioned satellites, Bavarian minister of economy Franz-Josef Pschierer paid a personal visit to HPS, the Munich based driver of spacetech innovations. Founder and CEO of HPS, Dr. Ernst K. Pfeiffer, explained the ADEO-system designed to avoid space debris – a unique development which has been funded by Bavaria – and also introduced other important product lines to the minister: reflectors for antennas serving earth observation and telecommunications projects in space, which today are the European benchmark in high frequency data transmission, thermal and radiation protection systems, large deployable antennas, and a high-precision mesh-net for the reflection of antenna signals – developed by HPS and produced in Hof, center of the Bavarian industrial "textil triangle". (Links to tv-coverage/interviews: https://www.sat1.de/regional/bayern/videos/die-sendung-vom-25-05-2018-ganze-folge)
On Saturday, May 26th, the HPS-crew took the ADEO flight model plus a spare to the launch site in New Zealand. ADEO will be launched end of June aboard an American ELECTRON rocket of RocketLab (lLinks: http://spacenews.com/rocket-lab-reschedules-next-electron-launch/; https://www.rocketlabusa.com/)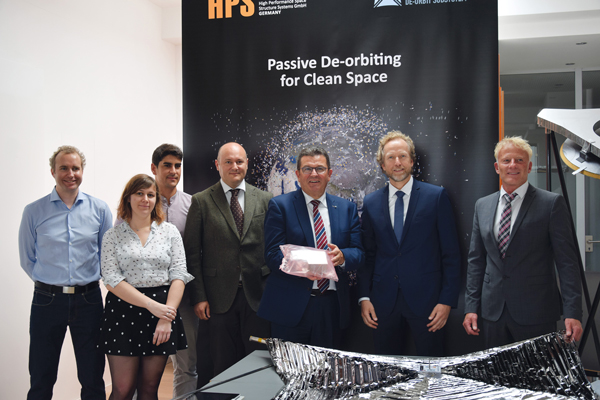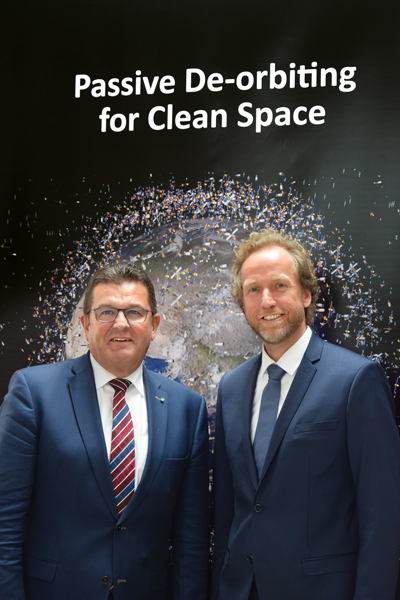 Dragsail technology demonstration mission NABEO-1 (ADEO dragsail family) successfully launched into space on Rocket Lab's Electron #ItsBusinessTime
---
On the 11th of November at 4:50am Central European Time, the HPS GmbH developed NABEO-1 dragsail technology demonstrator was launched into space onboard the Rocket Lab Electron rocket #ItsBusinessTime. This dragsail is a means to passively remove satellites from highly congested Low Earth Orbit regions after their mission life without the need for the spacecraft to be still alive.
With a dragsail area of 2.5m2 deployed from a cubesat sized box (<1U: 10cm x 10cm x 10cm) the NABEO-1 dragsails fit right into the ADEO-N dragsail class for cube and nanosatellites. Further developments for dragsails for larger missions (ADEO-L for 100-500kg satellites) are currently undertaken at the ESA GSTP/CleanSpace activity ADEO which will lead to a qualified dragsail Protoflight Model in 2020 with a follow up In-Orbit Demonstration Mission right after.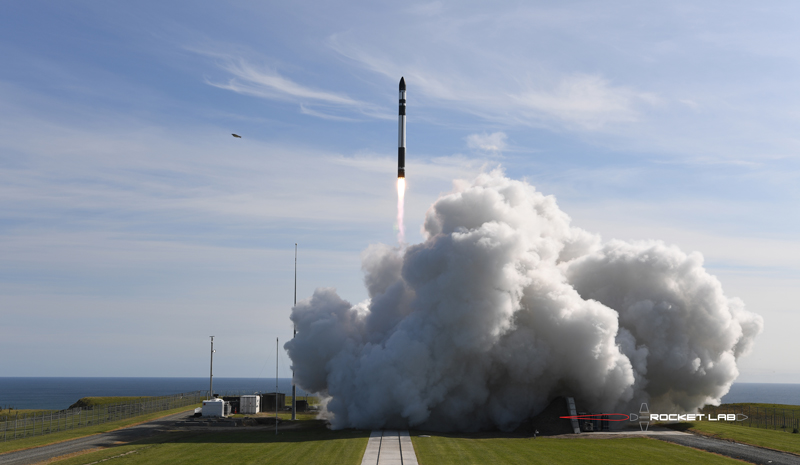 The opportunity to fly the NABEO technology demonstrator on the #ItsBusinessTime mission was offered by Rocket Lab (Huntington Beach, CA, USA / Auckland, New Zealand) and Ecliptic Enterprises Corporation (Pasadena, CA, USA) via Ecliptic's Hosted Payload Program (HPP), with NABEO-1 serving as a pathfinder for demonstrating the Electron rocket's hosted payload capabilities. The NABEO-1 subsystem development at HPS GmbH was co-funded by the Bavarian Ministry of Economic Affairs, Energy and Technology. The foundations for the dragsail technology have been laid in 2017 by joint research activities between the DLR Institute for Space Systems (Bremen), Fraunhofer Ernst Mach Institute (Freiburg), and HPS GmbH (Munich).
The #ItsBusinessTime rocket was launched from Rocket Lab's Launch Complex 1 at the Mahia Peninsula on the North Island of New Zealand. The NABEO-1 subsystem was attached to the kick stage (3rd stage) of the Electron rocket and stays on the kick stage for its deployment which was commanded 2 hours intro the flight. Currently, the team at HPS GmbH is waiting for a confirmation of the dragsail deployment with the help of the Falcon Telescope Network who will also try to investigate the de-orbit behavior of the kick-stage with the attached dragsail via their optical telescopes.