Deployable Dragsails (ADEO)
---
The space debris environment especially in the low earth orbit (LEO) is an increasing risk for all spaceflight missions. Without effective mitigation measures the debris density will increase to a level where spaceflight becomes more and more endangered up to even impossible. Therefore, to ensure safety for future space flight, end-of-life de-orbiting of satellites and upper stages of launchers is necessary. An international guideline has been issued since 2002 for a disappearance of each space object at least 25 years after end of life ("IADC Space Debris Mitigation Guidelines" of the Inter-Agency Space Debris Committee (IADC)). For the de-orbiting of LEO-satellites by an on-board de-orbiting device, several concepts are possible: Active de-orbiting via an onboard propulsion system or passively by interaction with LEO's natural phenomena, the upper light atmosphere.
If a satellite utilizes a propulsion system it can be an advantage that only additional propellant needs to be added to perform a de-orbit maneuver and the de-orbit can be performed quite quickly. On the other hand, the active propulsion system requires also at the end of life, after 10-15 years in orbit, the functionality of the propulsion system as well as the need for a GNC (Guidance, Navigation & Control) system to ensure that the force vector acts in the desired direction.
For satellites that do not have an adequate propulsion system or which have to de-orbit even after an non-nominal shut down of the onboard control system, an independent deorbit module should be considered, either as main deorbit solution or as a backup system to ensure a redundancy for the de-orbitation. So-called "dragsails" rely on the utilization of the natural drag decay of the residual earth atmosphere in low earth orbit (up to 750km) by increasing the drag area of the satellite or launcher upper stage at end of life. For initiation of the de-orbit maneuver a large surface is deployed. Thereby the drag force is increased causing accelerated decay in orbit altitude. Advantageous about a drag augmentation device is that it does not require any active steering and can be designed for passive attitude stabilization. Thereby it is also applicable for non-operational, tumbling spacecraft.
HPS has created together with German partner companies, DLR Institutes and Fraunhofer Institute the "ADEO de-orbit subsystem family" for different applications:
ADEO-N: for nano-sized space objects (1kg – 100 kg) like cubesats
ADEO-L: for large-sized space objects between 100kg and 1.500 kg
ADEO-M: tailored developments for spacecraft masses between 10kg and 500 kg
Similar technologies can be used for solar sailing (ADEO-S)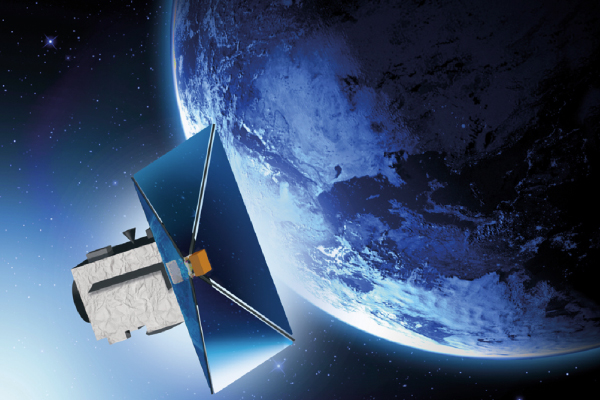 Dragsail for Medium/Large Applications (100kg-1500kg) (ADEO-L)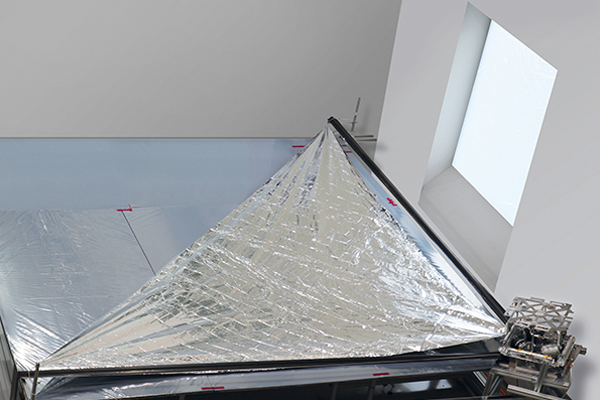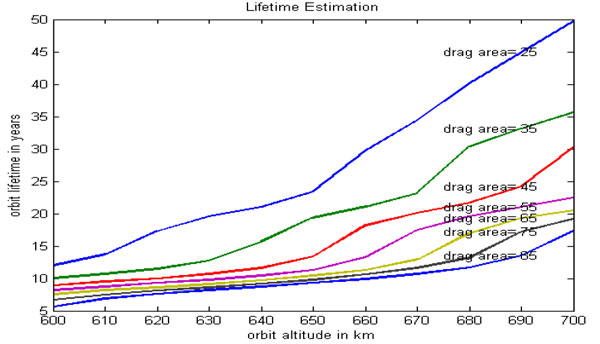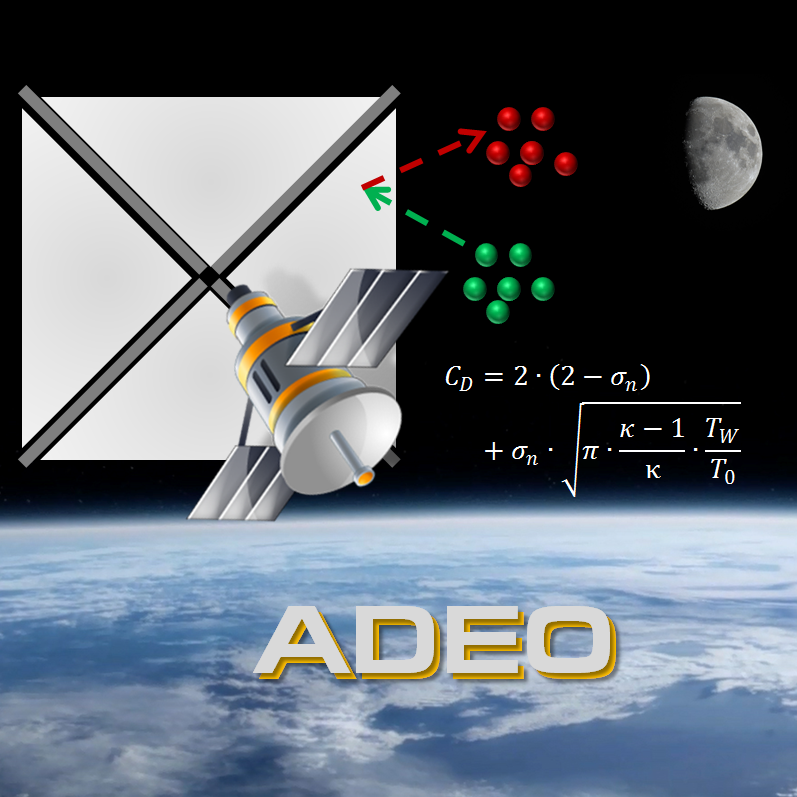 Development Partners:
HTS GmbH (Coswig, Germany)
DLR Institute of Space Systems (Bremen, Germany)
DLR Institute of Composite Structures and Adaptive Systems (Braunschweig Germany)
ETAMAX GmbH (Darmstadt, Germany)
Astos Solutions (Stuttgart, Germany)
Additional partners for ADEO-2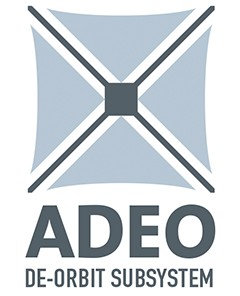 Description:
A scalable drag-augmentation subsystem to passively de-orbit satellites between 100kg and 1500kg
Customizable sail areas depending on spacecraft mass and de-orbit time needs
All technologies, parts and materials from European Companies (ITAR-free)
ADEO-1 activity (2014-2017, in contract to ESA) led to fully tested demonstrator.
De-Risk "ADDA" activity (2017, in contract to ESA) showed via dynamical analysis considering various perturbations (tumbling, SRP, …) that de-orbiting via dragsails is possible.
ADEO-2 activity planned to be kicked off mid 2018 for developing a first PFM (ADEO-medium) ready for integration and launch in 2020 (free-ride-option).
Features:
Completely passive de-orbiting subsystem
De-orbiting within 25 years (or much shorter, if required)
No onboard GNC required
Dragsail area from 10 m2 to >200 m2
Subsystem Mass: 7-15 kg (depending on sail area)
Subsystem Dimensions: ~ 40cm x 40cm x 20cm
Motorized deployment
Own deployment control electronics
Optional: own battery for automatic deployment in case of satellite failure
Materials withstand >25 years de-orbiting time (UV, ATOX, space debris impact, thermal gradients, etc.)
Verified by test for launch loads (vibration and rapid decompression) and orbital loads (thermal cycling and deployment in hot and cold TVAC conditions).
Highlights:
09/2017: Successful conclusion of de-risk activity regarding dynamical de-orbit performance (in contract to ESA)
03/2017: Finalisation of the successful test campaign of ADEO Engineering Model leading to TRL 5/6 and conclusion of ADEO-1 activity
Dragsail for Nano Applications (1kg-100kg) (ADEO-N (NABEO))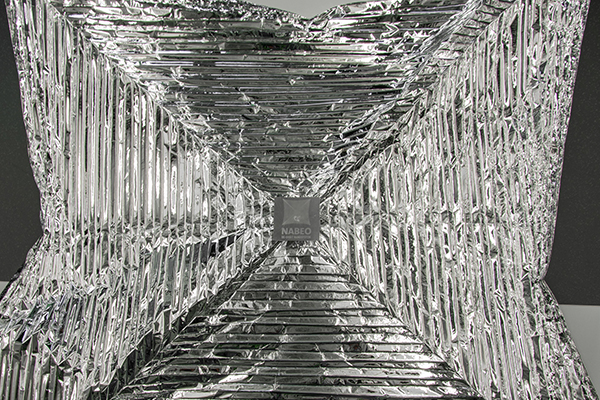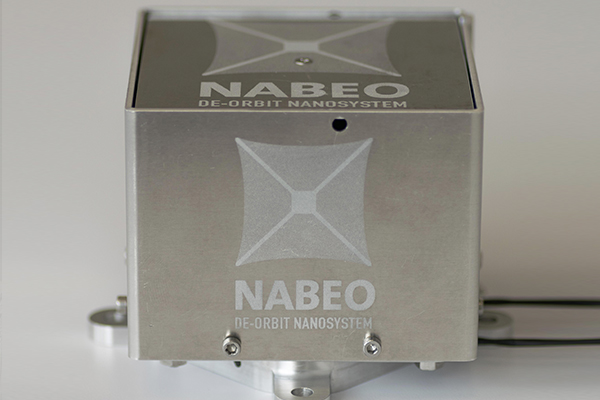 Development Partners:
Fraunhofer Ernst Mach Institute (Freiburg, Germany)
DLR Institute of Space Systems (Bremen, Germany)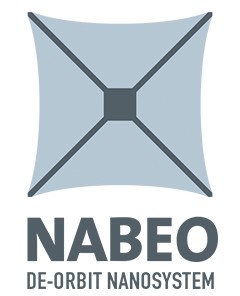 Description:
Dragsail for cube satellite application (1kg-100kg satellites)
Customizable sail areas depending on spacecraft mass and de-orbit time needs
First mission of ADEO-N: NABEO "Pride of Bavaria" to be launched on Rocket Lab Electron mission "It's Business Time" in June 2018 (development supported by the Bavarian Ministry of Economic Affairs, Energy and Technology)
Features:
Completely passive de-orbiting subsystem
De-orbiting within 25 years (or much shorter, if required)
No onboard GNC required
Dragsail area: 1 m2 up to 4 m2
(NABEO on Rocket Lab Electron "It's Business Time" uses 2.5 m2 dragsail area)
Mass: below 1 kg
Size: below 1U (10cmx10cmx10cm)
Two step deployment: 1) out of the box; 2) dragsail deployment (allowing the system also to be used in 6U, 12U, … cube satellites).
For triggering deployment only short signal is needed
Highlights:
23/06/2018 (TBC): To be launched on Rocket Lab USA Electron Launch No 3 "It's Business Time" -> Live stream available on https://www.rocketlabusa.com/