Deployable Antennas (LEA)
---
Increasing complexity of space-based applications for civil and defense purposes will also in future require large deployable antennas, while at the same time the demand for lower costs of transportation inevitably leads to smaller units also. Large deployable antennas will become for some applications the strategic key to space-technology to solve this dilemma.
On the level of subsystems in Europe the Bavarian company HPS has very early raised the claim for leadership in the field of deployable reflector subsystems (reflector, arm, hold-down and release mechanisms, thermal hardware), with focus on scalability, modularity, storage space, mass and – last, not least – price. HPS Germany has concentrated on the subsystem configuration, design & analysis, the reflector RF design, the deployable arm and the reflective metallic mesh.
The HPS-offer covers each and every application in the field of antennas (earth observation, telecommunications, science and military). Yet another basis for its solid leadership is HPS´ very tight cooperation with experienced European SME, especially with the German companies LSS on reflector level and RUAG Space Germany on mechanisms level.
As flagship project, HPS is leading a consortium of 15 European partners developing until end of year 2020 a 6 m diameter proto-flight model (PFM) of a large deployable reflector subsystem (reflector, arm, HDRMs), called LEA (Large European Antenna).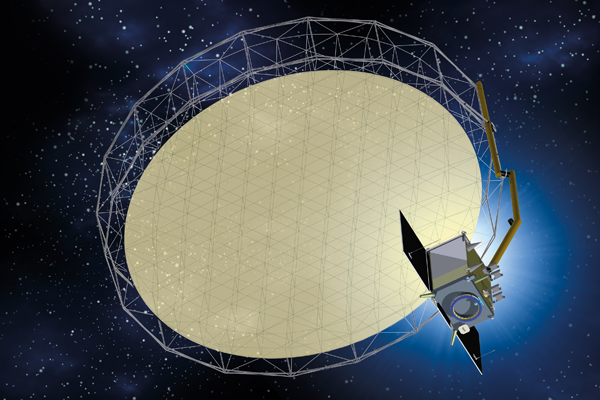 Large European Antenna (LEA)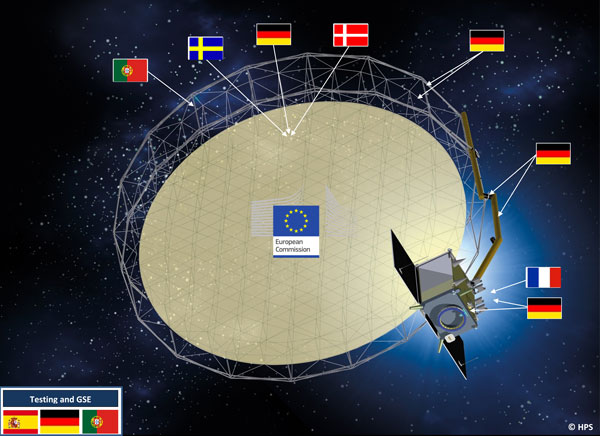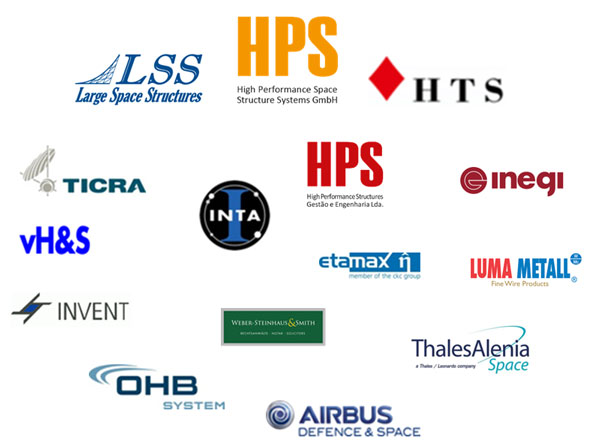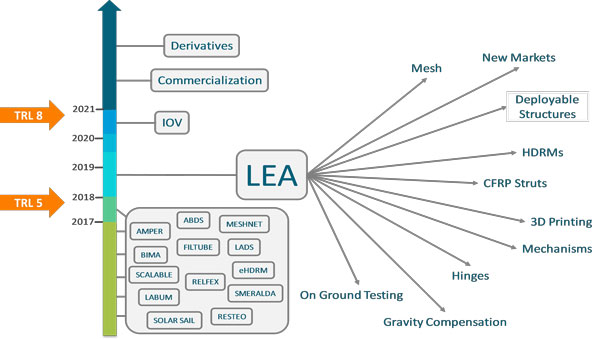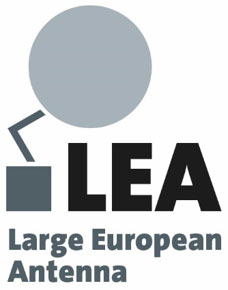 Description:
European H2020 Program ("non-dependance")
Protoflight-Model (PFM) development
LEA-PFM is offered for free to potential satellite programs in exchange to flight opportunity
Applications: Earth observation, telecom, science, defense
15 Partners (DE, PT, ES, DK, SE, FR)
Lead: HPS-Germany (implem. & technical management)
Budget: 5 Mio Euro by EC + 2 Mio Euro Investment
Start TRL: 5, End TRL: 8
Timeframe: 11/2017 – 10/2020
Ready to launch: 2021
LEA-FO (follow-on products) developments in the frame of the virtual LEA company "WeLEA":
– lead: HPS-Germany
– subcontractors: LEA partners: LSS, HTS, TICRA, INEGI,
HPS-Portugal, INVENT, INTA, LUMA Metall, vH&S, Etamax.
– in addition, if agreed/wished by the customer:
OHB (DE) Airbus (DE), ThalesAleniaSpace (FR)
References:
HPS Space News
HPS Press-Release
Space Intel Report
Features:
LEA-Subsystem includes: reflector, reflective surface, arm, hinges, deployment mechanisms, electronics, thermal hardware, test-GSE, test methodology.
LEA-PFM specification:
– 6 m ring diameter with 6 m arm length, F/D=1.0
– X-band (10.65 GHz)
– Ku-band (18.7 GHz) for RF-compatibility tests.
LEA-FO targets:
– 5 m to 25 m reflector diameter
– C-, L-, S-, P-, Ku-Band (longterm Ka-Band).
Highlights:
02.11.2017: Kick-off (as scheduled)
18.01.2018: Major LEA-PFM parameters specified.
20.07.2018: Preliminary Design Review
Large Deployable Reflector (SCALABLE)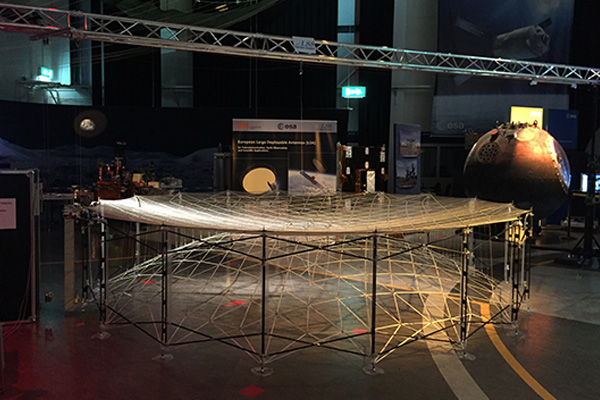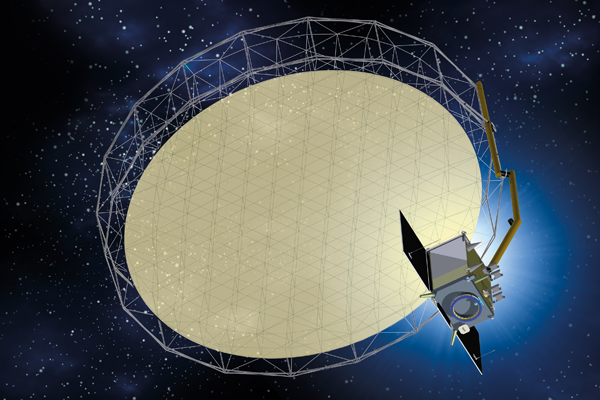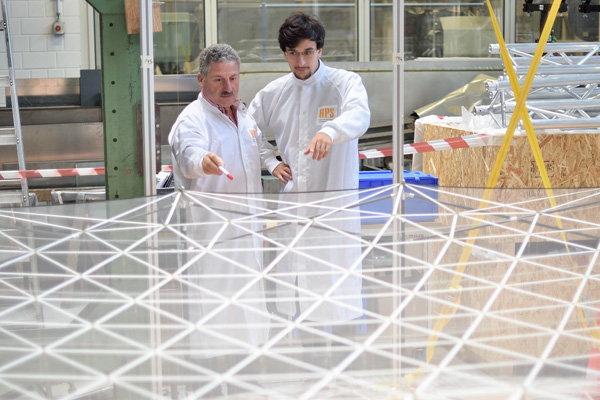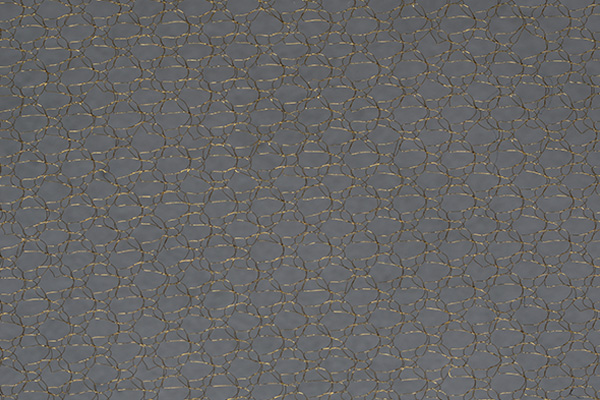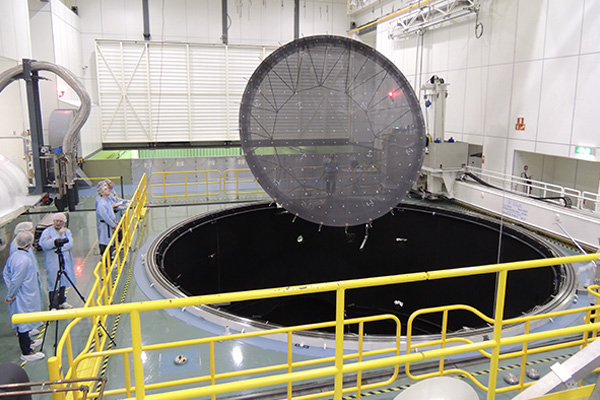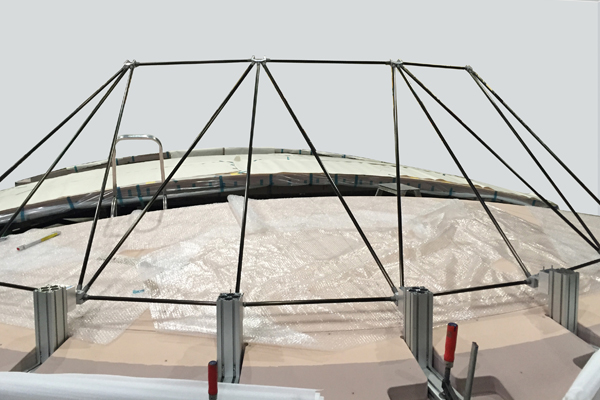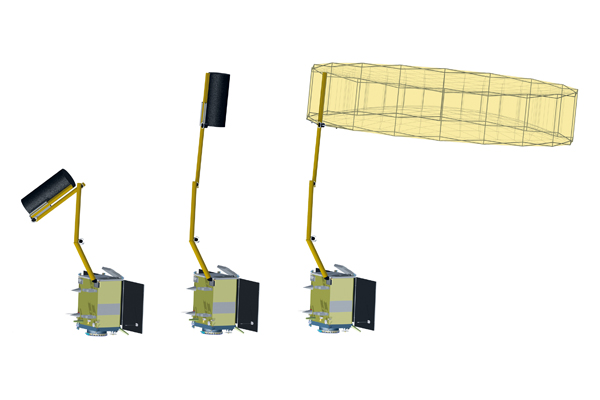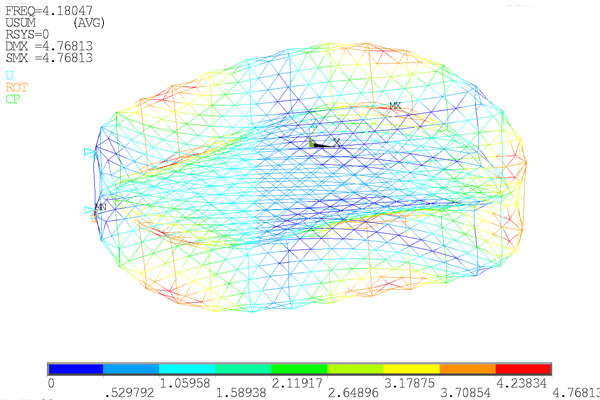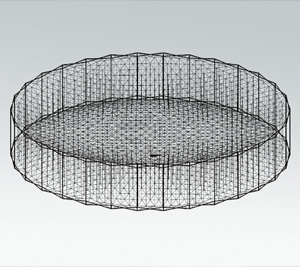 Features:
C-Band, L-Band, S-Band
Scalable up to Ka-Band
LEO application for Earth Observation
GEO application for Telecommunication
Diameters between 5 m and 20 m
Mass of reflector assembly: 25 kg (5 m) and 60 kg (12 m)
Close co-operation with subcontractor LSS, Munich
Reflecting surface: gold plated metal mesh by HPS
Description:
RF Reflective Metal Mesh for Reflectors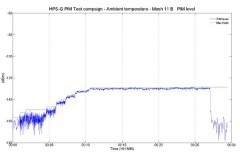 Description:
Highly reflective metallic mesh for antenna reflectors
Main application: deployable reflectors
RF- & PIM-tested
Development under ESA- and European Commission contracts and HPS-internal funding
Made in Germany.
Features:
Frequencies: C- up to Ku/Ka-band
Knitting patterns: depending on frequency and application
Elasticity: deformation up to 15%
Good RF and PIM performance
Reflectivity: e.g. 98% at 18.0 GHz
Dimensions: length up to 25 m; width: with proven joining techniques up to 25 m.
Large Deployable Arm (ABDS)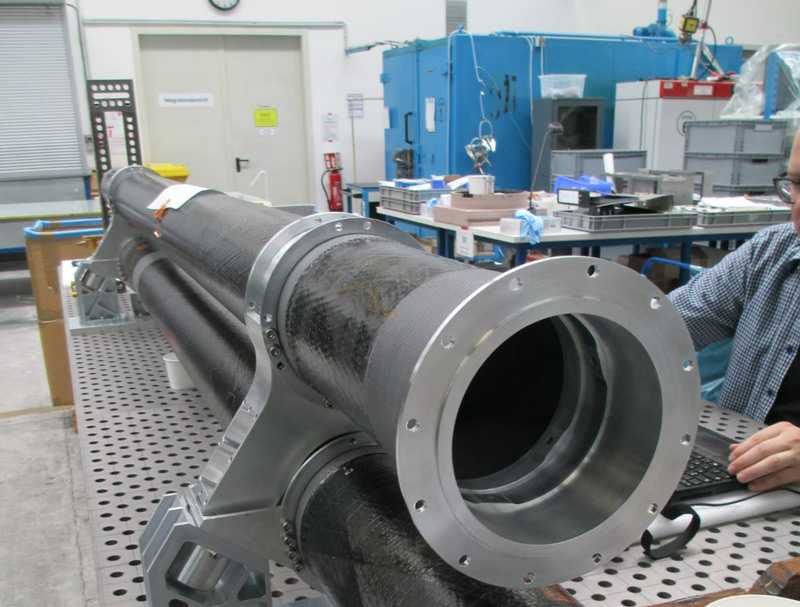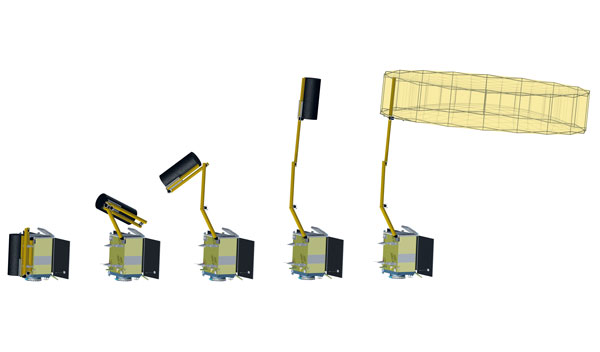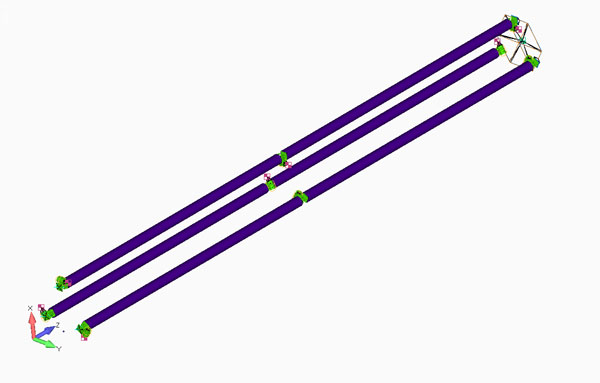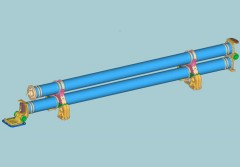 Description:
Ultra-stable deployable booms
Applications:
– large deployable antennas
– scientific instruments to be deployed
Planning:
– Engineering Model tested end 2018
– PFM Model ready end 2020.
Features:
modular and scalable extending up to 30 m length
pointing accuracy: 10-4 m/m
Stowed Eigenfrequency: > 130 Hz
Deployed Eigenfrequency: > 1 Hz
Mass: 8 kg/m.
Highlights:
12/2017: CDR sucessfully passed (ESA activity called "ABDS" with HPS as prime contractor, HTS, INVENT, INEGI as subcontractors).
06/2018: erfolgreiches EM-TRR